Drilling fluid remediation system is made up of three phases that condition, clean and separate the mud for reuse. These phases are performed in a continuous and in-sync operation with final discharge controlling the entire operation.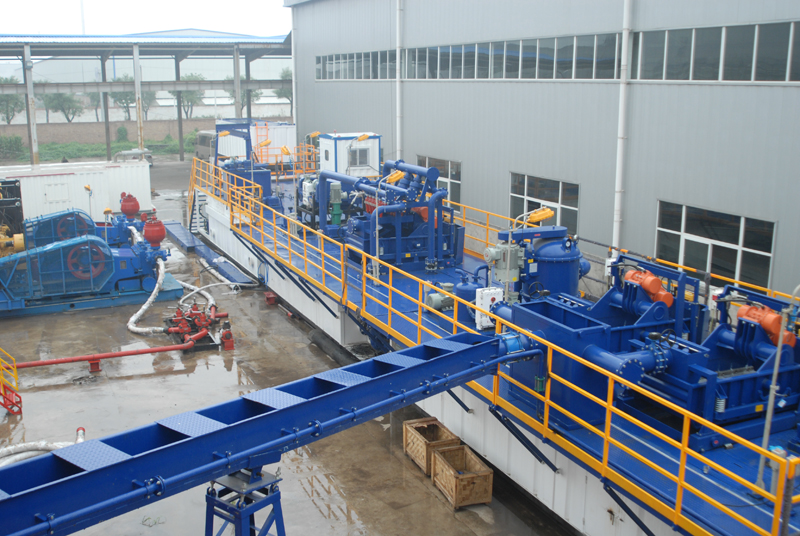 Phase One
In Phase One, the slurry is passed over an unbalanced elliptical shale shaker to remove the large material. This phase removes all large foreign items that are larger than 30 mesh.
Phase One is an important step in the process. Removing large items keeps the equipment operating smoothly. These items can jam or break working parts, causing lost time and costing extra money for broken equipment. In some cases, the material that is removed can be recycled.
Phase Two
After the larger foreign material is removed, the remaining slurry passes through the first set of 4-inch hydrocyclones in Phase Two. This phase removes finer sands and coarser silts. The hydrocyclones' underflow is deposited on an elliptical shale shaker screen for drying. The screen selection size is adequate to capture and dry the silts and sands. Cuts are down to 30 microns.
Phase Three
The slurry then passes through a second bank of 2-inch hydrocyclones to make the final cut, which includes the fine silts and non-hydrated clays. The underflow from these hydrocyclones is deposited on an elliptical shale shaker screen for drying. Screen selection plus clay piggybacking are adequate to capture and dry the fine silt sand clays. Cuts are down to 10 microns after this phase.
Drilling fluid remediation system use in oil and gas operations can be simplified with an efficient and effective separation system. In the past, mud was discarded and not recycled or reused. This was costly and wasteful. Drilling fluid remediation system remove debris from the reusable mud.
The environmental Drilling fluid remediation system have been developed. Each unit separates solids from pump-able slurries down to a nominal 10-micron size. Solids produced are "dry" (pass paint filter). Throughput capacity is 300 gallons per minute and 500 gallons per minute, depending on the unit size, on a continuous basis. No batching is involved and no chemical enhancement is required.

Email: sales2@adkosun.com
Contact person: Lily Wang